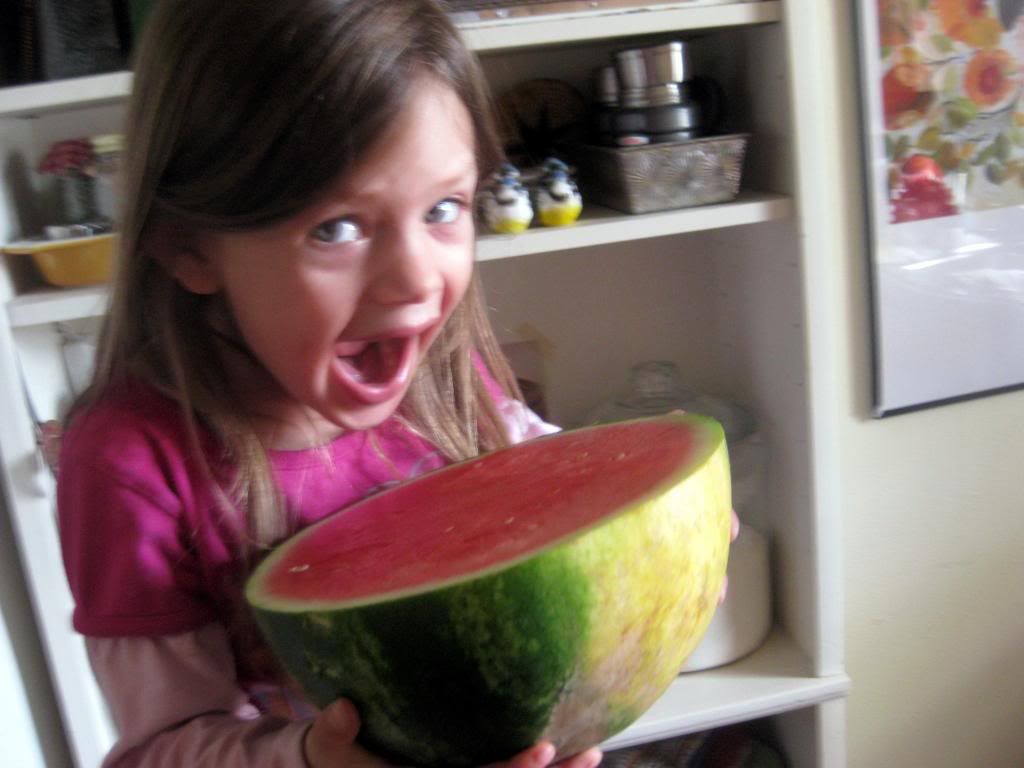 summer, in a nutshell or rather, a watermelon rind
Summer is come, complete with sweaty brows and hot nights when you sleep without covers, and happily filled to the brim with beloved faces and companionable working, babies wriggling about in my arms, climbing trees with my (not quite three-year-old) nephew; the crack of a baseball bat, the honest sound of a baseball socking into my glove, hot sunshine, baseball caps, and sunflower seeds; paddling a kayak across the lake with Dad of an evening; cleaning in the companionship of hundreds of books, feet hitting the rain-washed pavement; hours of reading
, stories
,
words--looking up from the printed page to the extraordinary colors of life
(the remarkable greens and reds and blues of everything);
the satisfying glide of a proper pen, cursive--imagination--fairytales--writing; illustrations in layers of color and paper; songs that burst out of my lungs, notes that give me goosebumps, thoughts that bring tears. All the best things.
Pig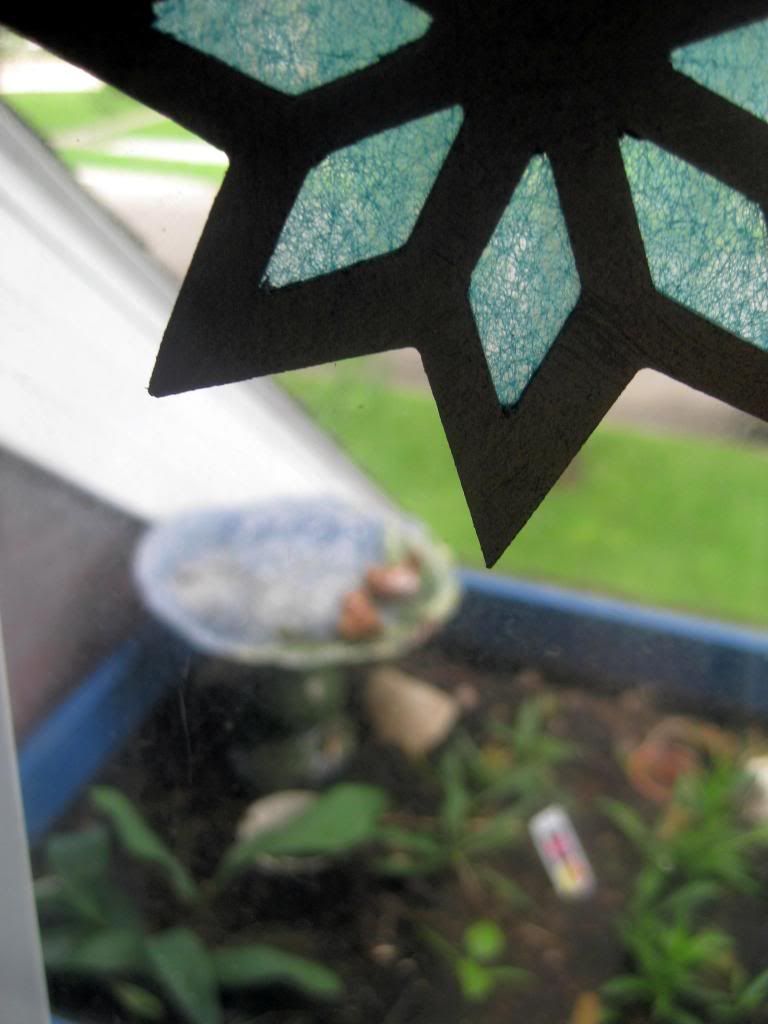 windowbox

Summer ball! (Ben's games--I'm just chauffeur, loud stands-cheering, etc.)

Early Summer Rain
by Olivia
.
The heat abates, the sun sinks low
Encouraging the cool to grow
Not cold, the warmth has brushed sun's set
But summer nights aren't sultry yet
.
Deepening dark, a rising moon
Is hidden by the clouds and soon
I hear a distant rumble from
My room--a cozy place to come
.
I watch my window keeping still
Ruffling curtain, wooden sill
Brightness! sudden lightning flash
I count and wait to hear the crash
.
It wasn't long in coming though
And loud...it stirred the wind to blow
Expectancy is in the air
I sit up in my window chair
.
A patter on the gutter now
I smile to hear and wonder how
To praise the One who calls the storm
To cease and then to come to form...
.
I hear it softer--rain on grass
Again the thunder shudders glass
Lulling it murmurs on and on
Soaking into thirsty lawn
.
I drift to sleep that deepens well
And leave the rain to wane and swell
By Gods direction through the night
I never leave his sovereign sight
.
Dearer to me than e'er my breath
Caller of weather, life and death
My Christ gives rest under his hand
I wake to see His glorious land
.
The sky is grey again today
I watch its beauty and I pray
And plan the day in great delight
For Requiem and candlelight
.
My flowers are happy too, I think
I see them from my kitchen sink
As rain continues, nice it seems
On humid drafts, the Mozart streams
.
Priidite floats now through the door
I sing along and scrub the floor
The housework of the afternoon
Is bettered by a choral tune
.
The tasks are finished with a nod
My spirit is at peace with God
The grey requests a pot of tea
And with a full heart I agree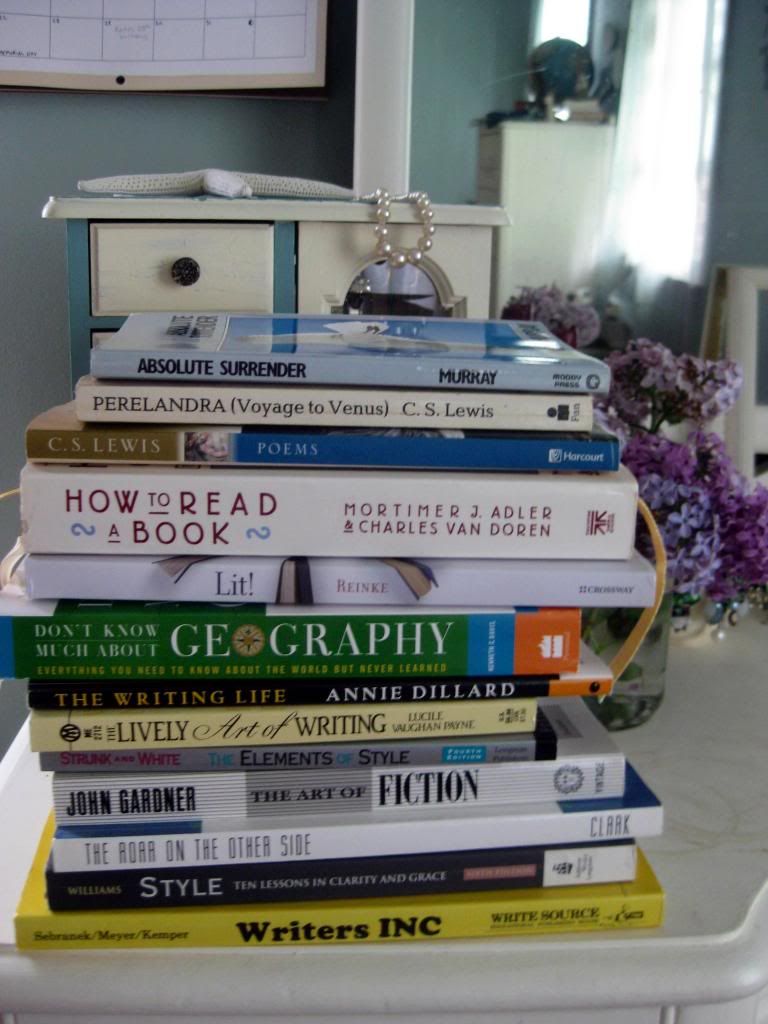 the start of a 'to read' pile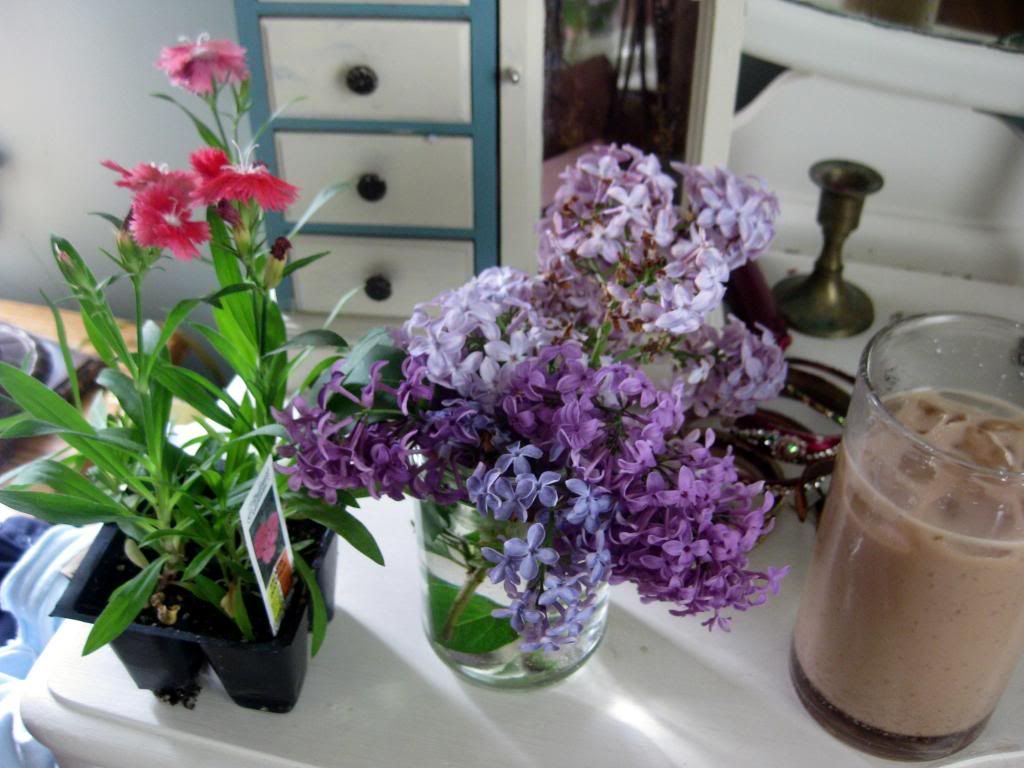 this may not look like a slice of heaven in the crafting world, but it is to me~