~the view from the Library of Congress steps
It was a very short walk from the capitol building to the Library of Congress, and the beauty of that place was enough to take your breath away. We stood on the steps for a bit, taking a few pictures, but mostly appreciating the intricacies even here shown on the outside.
My camera battery had died near the end of the capitol tour, (very distressing) but Grandma kindly lent me hers to take pictures with, and these photos are all courtesy of that!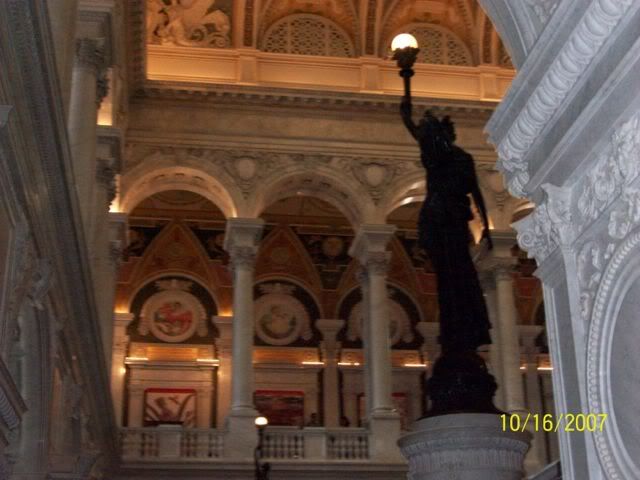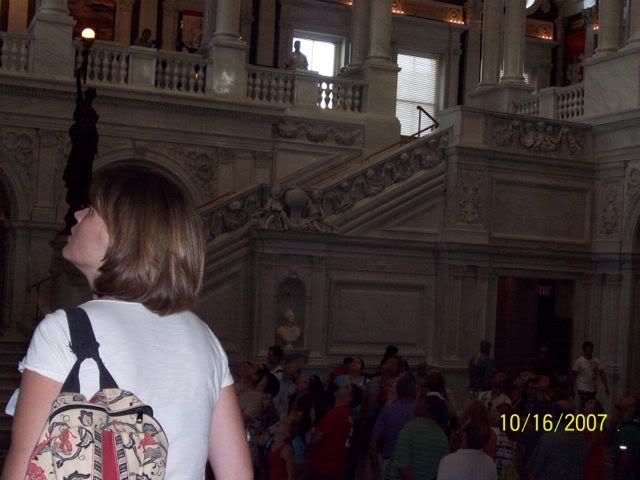 We were up too high to properly see the painting in the cupula, but there were pictures of it. Our tour guide said that the numerous flowers engraved on the ceiling were all useful. 1/3 of them security cameras, 1/3 sprinklers, 1/3 air-conditioning ducts. He also said that the latest movie filmed there was National Treasure 2, which of course I was already thinking of. (X,Y,2,3,4,7,8,6). We weren't allowed to take pictures there, so you'll have to see it yourself.
That library thrilled my soul. Each of the original books were marked with a green ribbon, centuries old, many of them evidently well loved and used. The books with yellow ribbons were replacements after the 1851 fire. (If that is such a saddening thought to me, what must Thomas Jefferson's devastation have been at losing two-thirds of his precious volumes?) And 298 are still missing, titles that he had owned, but could not be replaced, apparently.