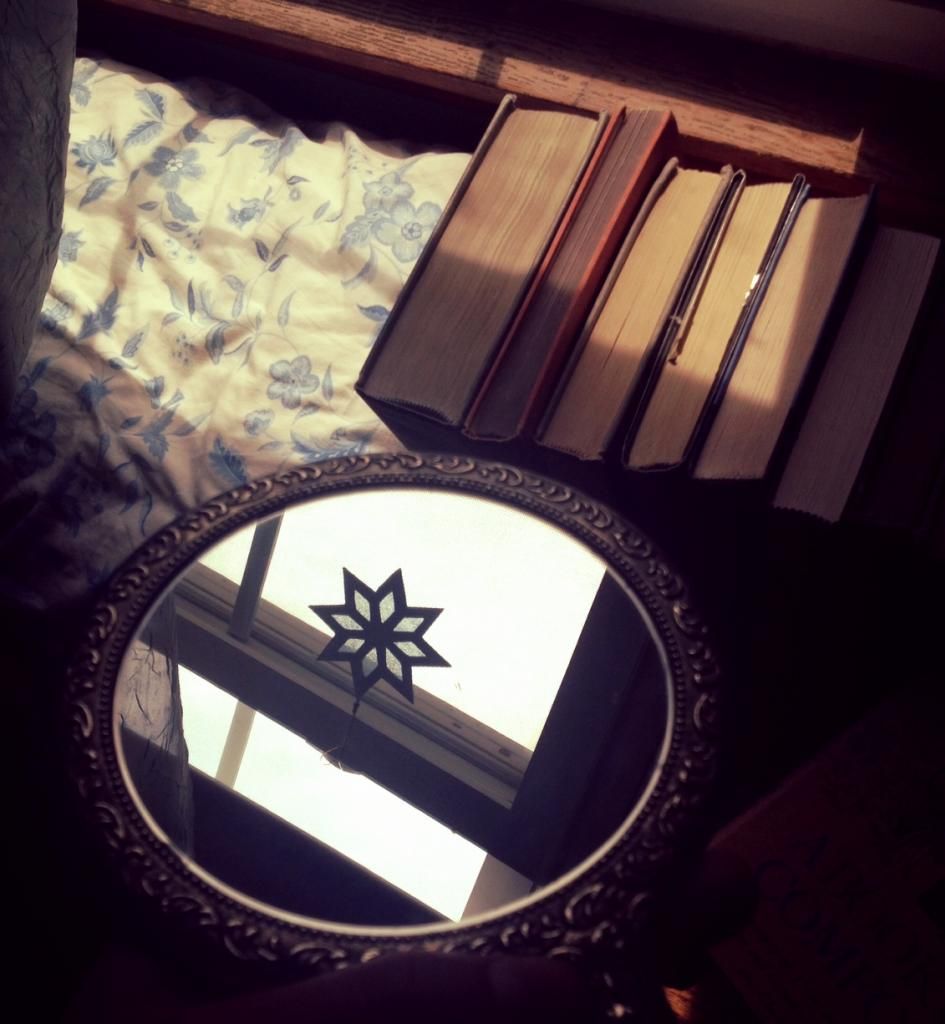 "There is no friend as loyal as a book" -Ernest Hemingway
House of Hades
by Rick Riordan
"During the third attack, Hazel almost ate a boulder."
This was an exciting read, not only because it was classic Riordan--adventurous, informative, and gut-bustingly hilarious. It was also the first book I'd read 'fresh off the press'. Never before had I been invested in a series while it was still being written. And although agonizing, waiting for the book to be published was a great experience. And the reading itself was unusual, in that I was able to read it not only in one day, but nearly one sitting! It was last New Year's Day, and I had woken up early in the morning to walk a 5k in 8 degree weather, got back in the house and remembered I had an entire new book to read, and nothing on the agenda. I spent the rest of the day reading, and finished it that night. 583 pages! Such a great time.
Over the course of the year I also listened to the Percy Jackson and Heroes of Olympus books again on unabridged audio. (All the ones that were out)
Mythology
by Edith Hamilton
"Greek and Roman mythology is quite generally supposed to show us the way the human race thought and felt untold ages ago."
I love the Rick Riordan books, and although you can argue that he changes up the myths a bit and adds all kinds of teenage jargon... those books also got me fully intrigued by mythology, and I went and found Edith Hamilton's book. Much chewier of course, but worth the work. I also love the D'aulaires' book of Greek Myths.
Clouds of Witness
by Dorothy Sayers
"'Contrast,' philosophised Lord Peter sleepily, 'is life. Corsica--Paris--then London...'"
I'm steadily reading the Lord Peter books, and I love them. I started a bit out of order, and then went back to the beginning. Brilliant mysteries, lovable characters, and such inspiring writing!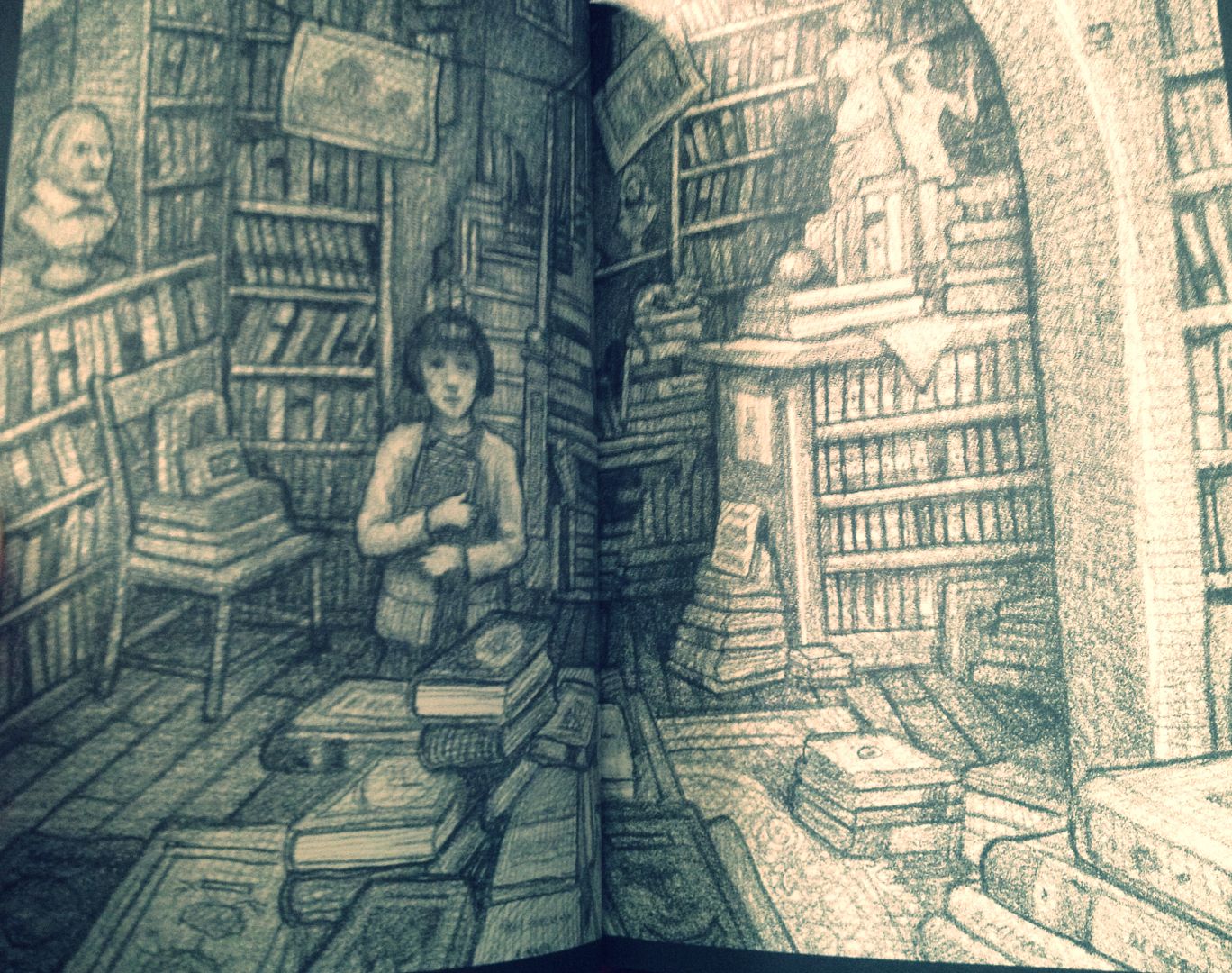 Death by Living
- N.D. Wilson
"Where are you exactly on this planet? How many feet above sea level and how many feet below and above the nearest stars? Where are you in time, in history, in the beyond-all-human-comprehension parade of handcrafted matter marching in noise and glory through this thing we call the present moment?"
Such a good book. I remember I finished reading it on the airplane returning from Florida last winter. I love the way Nathan Wilson thinks, and he has such a way with words and stories that it never gets dry. I don't read as much nonfiction, but this was completely enjoyable and inspiring. I put it in the category with Lewis and Chesterton, not because of the kind of
book
exactly,
but because the writing in itself, helps you think.
The Red Pyramid
by Rick Riordan
"Well," I said. "If you need me, I'll be outside, playing with sharp objects."
The Throne of Fire
by Rick Riordan
"the answer to every problem involved penguins"
The Serpent's Shadow
by Rick Riordan
"Our problems started in Dallas, when the fire-breathing sheep destroyed the King Tut exhibit."
A few more excellent Rick Riordan stories here, but a different series. (I didn't read them all in a row, but I wanted to group them together.) Great humor and plot-twists, likable characters. Egyptian mythology this time. I got to go to a museum not long after I read them, and in the Egyptian section I was thrilled to recognize all manner of symbols, pictures and words.
Mike
by P.G. Wodehouse
"Mike nodded. A sombre nod. The nod Napoleon might have given if somebody had met him in 1812 and said, 'So, you're back from Moscow, eh?'"
Wodehouse is an old favorite. I read this one because it's the first book in which Psmith appears. Psmith doesn't actually come into the story all
that
much, and the story involves a great deal of cricket, but it was still very enjoyable.
Persuasion
by Jane Austen
"'My idea of good company...is the company of clever, well-informed people, who have a great deal of conversation; that is what I call good company.'
'You are mistaken,' said he gently, 'that is not good company, that is the best.'"
I have to have long rests between doses of Austen, but when I do, it is thoroughly enjoyable. I didn't read in a very Austen-ish way though. No fancy dresses (no dress at all actually, and no good posture, more's the pity). I read it on my kindle during my sojourns in Colorado.
Sweetness at the Bottom of the Pie
by Alan Bradley
"As I stood outside in Cow Lane, it occurred to me that Heaven must be a place where the library is open twenty-four hours a day, seven days a week.
No, eight days a week."
The Weed that Strings the Hangman's Bag
by Alan Bradley
"'There's a lot to be said for being alone. But you and I know, don't we, Flavia, that being alone and being lonely are not at all the same thing?'"
These two books are delightful stories from the perspective of a precocious eleven-year-old girl in the 1950s. She thinks, and performs experiments, and solves mysteries. There's a whole long series that I look forward to.
Ender's Game
by Orson Scott Card
"Perhaps it's impossible to wear an identity without becoming what you pretend to be."
I read this book after seeing the movie. Both are excellent, but the book was amazing. Not only because the story is intriguing and well-told, but also, the writing really makes you think. Sharper, clearer, more strategically. There is a great deal of strategy in ordinary every-day logic that I feel most people neglect. And I was inspired to use my brain to its potential.
What's Wrong with the World
by G.K Chesterton
"The Christian ideal has not been tried and found wanting. It has been found difficult; and left untried."
"Most modern freedom is at root fear. It is not so much that we are too bold to endure rules; it is rather that we are too timid to endure responsibilities."
I can't say enough good about Chesterton. I have mentioned before (quite often) how I appreciate the way he thinks and how his writing makes me think. Even when I get to sections that I don't understand, the writing itself is teaching and inspiring me. An unusual trait, and a thrilling one.
Death in Kenya
by M.M. Kaye
'A flock of pelicans, their white wings dyed apricot by the setting sun, sailed low over the acacia trees of the garden with a sound like tearing silk, and the sudden swish of their passing sent Alice's heart into her throat and dried her mouth with panic.'
A brilliant little mid-century mystery by a favorite writer. A light read, but lovely prose, pleasant, quirky characters and a grand mystery.
The Thief
by Megan Whalen Turner
"A thief never makes a noise by accident."
(reread
Queen of Attolia
by Megan Whalen Turner)
"I sometimes believe his lies are the truth, but I have never mistaken his truth for a lie."
King of Attolia
by Megan Whalen Turner
"Sometime, if you want to change a man's mind, you have to change the mind of the man next to him first."
Conspiracy of Kings
by Megan Whalen Turner
"'I don't think unlikely means to him what it does to the rest of us,' said the magus."
I
love
these books. I had read Queen of Attolia before and loved it. So I went back to read the whole series, and loved it even more. Such a great story. Deep, interesting characters and a complex, often unexpected plot. Rich atmosphere. More than the sum of its parts, certainly, and a forever favorite.
Unnatural Death
by Dorothy Sayers
"To the person who has anything to conceal--to the person who wants to lose his identity as one leaf among the leaves of a forest--to the person who asks no more than to pass by and be forgotten, there is one name above others which promises a haven of safety and oblivion. London."
Another excellent Lord Peter Whimsey novel.
Death in Cyprus
by M.M. Kaye
"Amanda had not been really frightened until she found the bottle."
And another delightful vintage mystery laced with romance. Kaye describes the mediterranean island in vivid atmospheric tones, as always.
The Moonstone
by Wilkee Collins
"We had our breakfasts--whatever happens in a house, robbery or murder, it doesn't matter, you must have your breakfast."
This book is written from several different perspectives, and each has its own special flavor. Some parts I could read more quickly, each section very like the personality of its narrator. So it was intriguing from a writer's perspective as well as a reader's. The mystery was splendid as well, but I won't give anything away.
Silver on the Tree
by Susan Cooper
"Sometimes you must seem to hurt something in order to do good for it."
The last book in the Dark is Rising series (the first two of which I listen to on audio every year). Great favorites. Full of rich description, fantasy, and Arthurian legend.
The Magic Summer
by Noel Streatfeild
(couldn't find a quote--the book's back at the library)
I love Noel Streatfeild's Ballet Shoes, and Theater Shoes, so this year I read this one by her. Fun, ordinary adventures, a few eccentric characters, and a slightly whimsical, unexpected summer.
An Excellent Mystery
by Ellis Peters
"August came in, that summer of 1141, tawny as a lion and somnolent and purring as a hearthside cat."
The title speaks for itself I should say. It's a Cadfael mystery--a crusader-turned-monk in the twelfth century--and is rich with atmosphere and history. The stories are full of truths and realistic characters; growth, beauty, herbariums, and moody western England.
The First Four Years
by Laura Ingalls Wilder
"The incurable optimism of the farmer who throws his seed on the ground every spring, betting it and his time against the elements, seemed inextricably to blend with the creed of her pioneer forefather that 'it is better farther on'--only instead of farther on in space, it was farther on in time, over the horizon of the years ahead instead of the far horizon of the west."
I have read and heard read all the preceding Laura Ingalls Wilder books numerous times. Then this year I visited Walnut Grove, and although the museum isn't terribly impressive, there was one thing that made an impression on me. One book. One name. (pictured below.) I read this book soon after.
(
reread
100 cupboards
by N.D. Wilson)
"Henry successfully kept his mind on the game, which mights seem strange for a boy who slept beside a wall of magic. But baseball was as magical to him as a green, mossy mountain covered in ancient trees. What's more, baseball was a magic he could run around in and laugh about. While the magic of the cupboards was not necessarily good, the smell o leather mixed with dusty sweat and spitting and running through sparse grass after a small ball couldn't be anything else."
Dandelion Fire
by N.D. Wilson
"Your blood is all green and gold with the strength of dandelions. And their strength is in their laughter, for they fear nothing."
The Chestnut King
by N.D. Wilson
"For you may the weak have love and the strong have fear. For you may the darkness break. May your life be a truth, and your death a glory."
Nathan Wilson writes in rough-and-tumble prose, full to bursting with poetic magic. I don't know how he does it, but I am forever grateful. Dandelion Fire is the one that absolutely captured me. If I ever finish a story I hope it's even a little like those books. There's such vibrance in his writing, so much meaning, and hope. I was reading my journal entries from August which was a difficult time for me this year, and these books really helped me through.
"Your life is your own, your glory is your glory, but you will lose it if you keep it for yourself. Grasp it for the sake of others. What might you do with it?"
"A man once told me that sometimes winning a fight isn't as important as standing in the right place, facing what needs to be faced. And sometimes standing in the right place means you end up dead. And that's better than not standing at all."
Son of Sobek
by Rick Riordan
"Getting eaten by a giant crocodile was bad enough. The kid with the glowing sword only made my day worse."
Staff of Serapis
by Rick Riordan
"She didn't like taking credit for other people's camels."
A couple of short stories by Rick Riordan. (surprise, surprise.) Percy Jackson meets the Kanes. Hilarious. Totally made my day.
Deepening the Soul for Justice
by Bethay H. Hoag
"Seeking justice begins with seeking God: our God who longs to bring justice; our God who longs to use us, every one of his children, to bring justice; our God who offers us the yoke of Jesus in exchange for things that otherwise leave us defeated."
This was more of a booklet, but a good read. Raising awareness about the human trafficking that goes on today. And looking to Christ for our help.
The Eyre Affair
by Jasper Fforde
"Governments and fashions come and go but jane Eyre is for all time."
This story is full of all sorts of fun things that you probably always wished existed: literary detectives, time travel, fictional characters that come to life, books you can get inside of, and plenty of what-ifs.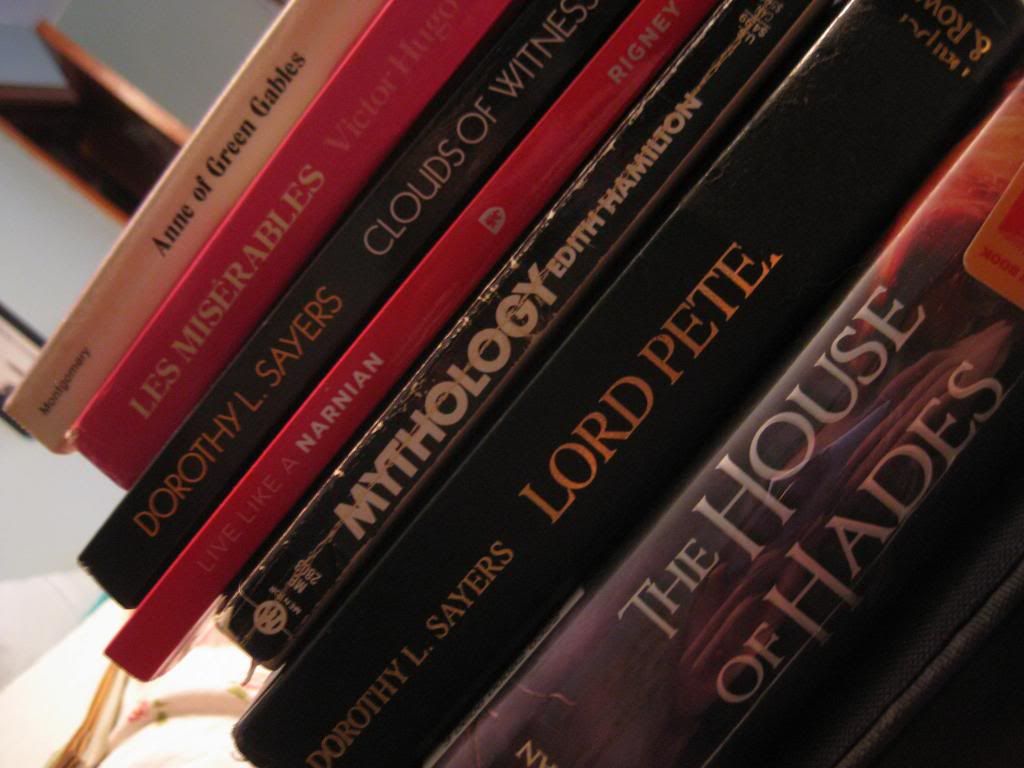 Live Like a Narnian
by Joe Rigney
"As G.K. Chesterton reminded us, the reason that order and structure exist in the world is so that good things can run wild."
I first knew I wanted to read this book when I heard Joe Rigney speak at the C.S. Lewis conference. (Since I wasn't able to go--a fact that made me incredibly sad--I watched the lectures online, and they were all wonderful.) Helping unpack the magic of the Narnia series and remind us to be
'first in every desperate attack and last in every desperate retreat, and when there's hunger in the land... to wear finer clothes and laugh louder over a scantier meal than any man in your land.'
(
Horse and His boy
)
Blood of Olympus
by Rick Riordan
"'Oh, come on!' Percy complained. 'I get a little nosebleed and I wake up the entire earth? That's not fair!'"
Last of the series, and a great one. Sad to see the era end. Definitely a cast of characters that will continue to be my friends for years to come. .-.. . --- .. ... - .... . -... . ... -
Do Hard Things
by Alex and Brett Harris
"Your primary goal isn't to do something extraordinary but to do all things, even the ordinary things, extraordinarily well."
So yes, I'm a little behind the times in reading and getting behind the Rebelution. Not only was this book written six years ago, it was written for teenagers by teenagers, 'choosing to get every possible benefit out of the teen years in creative, responsible, and highly effective ways'.
"Do hard things means fighting for greater levels of excellence because there is always something harder to do. It is never a matter of arriving; it is a constant battle for growth."
"The point is not to have an easy life--Christians don't live easy lives--the point is to serve Him in even the mundane little everyday things and when we feel like giving in.
Help will always come in time."
Although this is my first reading of the book, doing hard things for Christ's sake played a huge part in my teenage years. The transformation of my whole self, my every moment, to live for Jesus--that's when it began to click. I have long felt that each step outside my comfort zone, each difficult task, was a victory, and somehow exponentially important to life. But I've had a lot of trouble trying to express this, and in the slow day-to-day I get discouraged. I forget that there are others out there doing hard things for Christ. I forget the importance of the little stuff; that when we pour ourselves out for Christ, we are filled again by Him.
So it's not a particularly new concept for me, but it is one that speaks to my very soul, lifting me up, reminding and challenging me to live every difficult minute for Jesus. Not expecting it to be easy, but expecting it to be worth it, fulfilling, a learning process, even
fun
. And being excited all over again about heaven, and all my fellow Christians and rebelutionaries around the globe!
Secret Adversary
by Agatha Christie
"Youth is a failing only too easily outgrown."
Another great mystery; Agatha Christie this time. Great characters and and a plot that will keep you guessing. It was such fun. This is another one I have memories of reading on my kindle, in an airplane.
The Library of Owen Axanger
by J.A. Shealde
"This is the story of a man who stole the seed of a valuable flower from its owners. When he had stolen it he locked it quickly in a strong black box of his own design to prevent it from growing. . ."
An excellent read. It's a children's fantasy novel but with entirely unique twists. Full of new ideas that surprised me and made me think.
The Dragon's Tooth
by N.D. Wilson
"Horace smiled. 'Always breakfast like a man condemned. One never knows what a day may bring.'"
The Drowned Vault
by N.D. Wilson
"'Son,' his father said. 'Run faithfully to the end, and like all good men, you will die of having lived.'"
Empire of Bones
by N.D. Wilson
"
'When everyone waits for someone else to do something, evil will always triumph.'"
The Ashton Burials series by Wilson. Brilliant once again. Inspiring, full of adventure and endurance, strength and family. Wilson's books make me want to live my own life with purpose, and depth, and deep-seeded joy.
And more than anything,
laughter
.